My Blog
Posts for: December, 2016
By H. David Allick, DDS, PA
December 28, 2016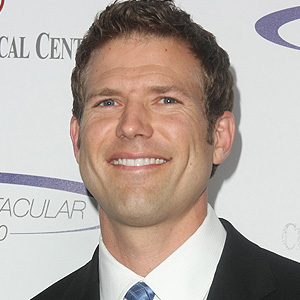 If we could go back in time, we all probably have a few things we wish we could change. Recently, Dr. Travis Stork, emergency room physician and host of the syndicated TV show The Doctors, shared one of his do-over dreams with Dear Doctor magazine: "If I [could have] gone back and told myself as a teenager what to do, I would have worn a mouthguard, not only to protect my teeth but also to help potentially reduce risk of concussion."
What prompted this wish? The fact that as a teenage basketball player, Stork received an elbow to the mouth that caused his two front teeth to be knocked out of place. The teeth were put back in position, but they soon became darker and began to hurt. Eventually, both were successfully restored with dental crowns. Still, it was a painful (and costly) injury — and one that could have been avoided.
You might not realize it, but when it comes to dental injuries, basketball ranks among the riskier sports. Yet it's far from the only one. In fact, according to the American Dental Association (ADA), there are some two dozen others — including baseball, hockey, surfing and bicycling — that carry a heightened risk of dental injury. Whenever you're playing those sports, the ADA recommends you wear a high-quality mouth guard.
Mouthguards have come a long way since they were introduced as protective equipment for boxers in the early 1900's. Today, three different types are widely available: stock "off-the-shelf" types that come in just a few sizes; mouth-formed "boil-and-bite" types that you adapt to the general contours of your mouth; and custom-made high-quality mouthguards that are made just for you at the dental office.
Of all three types, the dentist-made mouthguards are consistently found to be the most comfortable and best-fitting, and the ones that offer your teeth the greatest protection. What's more, recent studies suggest that custom-fabricated mouthguards can provide an additional defense against concussion — in fact, they are twice as effective as the other types. That's why you'll see more and more professional athletes (and plenty of amateurs as well) sporting custom-made mouthguards at games and practices.
"I would have saved myself a lot of dental heartache if I had worn a mouthguard," noted Dr. Stork. So take his advice: Wear a mouthguard whenever you play sports — unless you'd like to meet him (or one of his medical colleagues) in a professional capacity…
If you would like more information about mouthguards, please contact us or schedule an appointment for a consultation. You can read more in the Dear Doctor magazine article "Athletic Mouthguards."
By H. David Allick, DDS, PA
December 13, 2016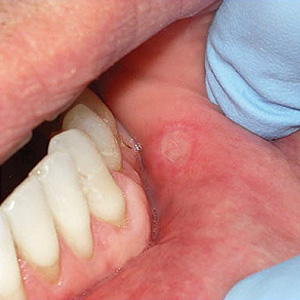 There's more to your dental visit than preventing or treating teeth or gum problems. We're also on the lookout for a number of potential soft tissue problems that could occur in or around your mouth.
Here are 4 examples of such problems we can detect and help you manage.
Lumps. Whenever you accidentally bite the inside of your mouth, the wound you create forms a protective layer of hard collagen. Unfortunately, the "callous" can rise higher than the surrounding cheek surface and easily get in the way of your teeth again. With successive bites and more scar tissue you'll soon notice a prominent lump. Although not a health danger, it becomes annoying with each successive bite. We can surgically remove the lump and flatten out the mouth surface.
Canker sores. Known as aphthous ulcers, these round sores with a yellow-gray center and a red "halo" can break out on the inside cheeks, tongue or back of the throat. Unless they don't heal within a couple of weeks or seem to be increasing in frequency, they're nothing to worry about. They can, however, cause a burning or stinging sensation. We can reduce this discomfort and speed healing with over-the-counter ointments or prescription options like topical or injected steroids.
Cracked mouth corners. Also known as perleche (from the French lecher, meaning "to lick"), your mouth corners can become dry and irritated and you may begin licking them to soothe the discomfort. Accumulated saliva can trigger a yeast infection, which can spread to other parts of your mouth. We can usually prevent this by prescribing antifungal ointments, and a steroid ointment to control inflammation.
Mouth rash. Peri-oral dermatitis is a red, scaly rash that appears around the outside of the mouth. Because it's often mistaken for acne or other conditions, it's often treated with topical steroids. This actually suppresses the skin's normal healing effects and can actually make the rash worse. The best way to treat it is to stop using any kind of ointment or cream and use only mild soap to wash the area. We can also prescribe antibiotics to help speed the healing process.
If you would like more information on these and other soft tissue problems, please contact us or schedule an appointment for a consultation. You can also learn more about this topic by reading the Dear Doctor magazine articles "Common Lumps and Bumps in the Mouth," "Mouth Sores," and "Cracked Corners of the Mouth."