My Blog
Posts for tag: Dental Implant
By H. David Allick, DDS, PA
July 04, 2019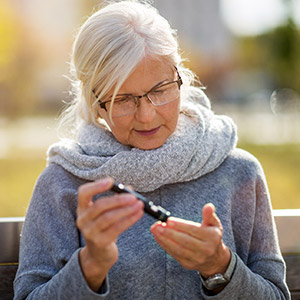 You would love to replace a troubled tooth with a dental implant. But you have one nagging concern: you also have diabetes. Could that keep you from getting an implant?
The answer, unfortunately, is yes, it might: the effect diabetes can have on the body could affect an implant's success and longevity. The key word, though, is might—it's not inevitable you'll encounter these obstacles with your implant.
Diabetes is a group of metabolic diseases that interfere with the normal levels of blood glucose, a natural sugar that is the energy source for the body's cells. Normally, the pancreas produces a hormone called insulin as needed to regulate glucose in the bloodstream. A diabetic, though either can't produce insulin or not enough, or the body doesn't respond to the insulin that is produced.
And while the condition can often be managed through diet, exercise, medication or supplemental insulin, there can still be complications like slow wound healing. High glucose can damage blood vessels, causing them to deliver less nutrients and antibodies to various parts of the body like the eyes, fingers and toes, or the kidneys. It can also affect the gums and their ability to heal.
Another possible complication from diabetes is with the body's inflammatory response. This is triggered whenever tissues in the body are diseased or injured, sealing them off from damaging the rest of the body. The response, however, can become chronic in diabetics, which could damage otherwise healthy tissues.
Both of these complications can disrupt the process for getting an implant. Like other surgical procedures, implantation disrupts the gum tissues. They will need to heal; likewise, the implant itself must integrate fully with the bone in which it's inserted. Both healing and bone integration might be impeded by slow wound healing and chronic inflammation.
Again, it might. In reality, as a number of studies comparing implant outcomes between diabetics and non-diabetics has shown, there is little difference in the success rate, provided the diabetes is under control. Diabetics with well-managed glucose can have success rates above 95%, well within the normal range.
An implant restoration is a decision you should make with your dentist. But if you're doing a good job managing your diabetes, your chances of a successful outcome are good.
If you would like more information on dental care and diabetes, please contact us or schedule an appointment for a consultation.
By H. David Allick, DDS, PA
June 14, 2019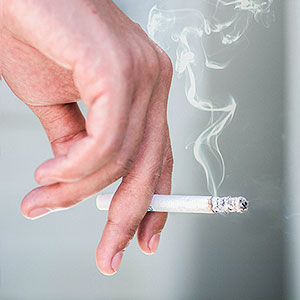 Although costly in the beginning, dental implants often turn out to be the least expensive tooth replacement option. That's because their enviable record for longevity often outpaces dentures or bridges. Over the long-term you might spend less for implants than these other restorations.
But even with the high success rate of dental implants (greater than 95% survive the ten-year mark), we can't guarantee they won't fail. And if you're a tobacco smoker, the risk of failure might be even higher. One study, for example, found early implant failures were twice the rate for smokers over non-smokers. Although implant failures overall are low, smoking seems to be a factor in those that do.
There are a number of reasons to account for this. For one thing, inhaled smoke can damage salivary glands, reducing the flow of this important fluid. Saliva helps control bacterial growth and neutralize mouth acid, so without it you're more susceptible to tooth decay or periodontal (gum) disease. Either infection could ultimately weaken implant-supporting bone.
The nicotine in tobacco can also restrict oral blood vessels and lower their ability to supply antibodies and nutrients to the teeth and gums. This slows healing, which could have one particular effect on implant durability.
During the intervening weeks between implant placement and crown attachment, the implant's titanium post attracts bone cells that grow and adhere to its surface. The effects of nicotine on healing, especially right after implant surgery, can interfere with this integration process so that the implant doesn't anchor in the bone as well as it should.
If you're a smoker, you can increase your chances of implant success—and have a healthier mouth overall—by quitting smoking beforehand with the help of a cessation program. Or at the least, consider stopping smoking for one week before implant surgery and for two weeks afterward.
And be sure to brush and floss your teeth daily and visit your dentist regularly to keep your teeth and gums as healthy as possible. Stopping smoking and practicing effective oral hygiene could make a big difference in the success or failure of your implant.
If you would like more information on smoking and your dental health, please contact us or schedule an appointment for a consultation. You can also learn more about this topic by reading the Dear Doctor magazine article "Dental Implants & Smoking."
By H. David Allick, DDS, PA
March 08, 2019
It's time to discover the long-term solution for replacing your missing teeth.
Are you an adult who is missing one or more permanent teeth? If so, you're in luck. Our Rockville, MD, family dentists Dr. H. David Allick
and Dr. Ghassan Jacklis have been helping countless patients regain a complete smile all thanks to dental implants. Are you looking for the next best thing to real teeth? If so, then a dental implant is the solution you've been looking for.
How Dental Implants Work
An implant is a small metal post or screw that functions just like tooth roots. This artificial tooth root will be placed within the jawbone where it will naturally fuse together with the jawbone and tissue to provide a stable and long-term foundation from which to support a false tooth or teeth.
Before getting a dental implant our Rockville, MD, dentists will need to make sure that you are healthy enough for this restorative treatment. This involves coming in for a thorough examination that includes x-rays to make sure that there is enough healthy jawbone to support the implant.
From there, the implant is placed. After several months the implant and jawbone will bond. Once this naturally occurring process happens then we can place the remaining pieces of the implant including the dental crown (the part of the implant that will be visible when you smile).
How You Can Benefit from Dental Implants
Most healthy adults who are missing at least a single tooth can benefit from getting dental implants. They boast an extremely high success rate and could end up lasting the rest of your life if you maintain good oral health. Since implants are truly as close as you can get to real teeth they offer some pretty amazing benefits,
Restored chewing and speech
Improved appearance and self-confidence
Prevent teeth from shifting into open gaps
Prevent bone loss and changes to your facial structure
If you are dealing with tooth loss and want to find out if you are a candidate for implants then it's time to call White Flint Dental Associates. We provide comprehensive dental care to patients of all ages living in Rockville, MD.