Dentist in Rockville, MD
The brief descriptions below are designed to familiarize you with our staff's training, professional credentials and work experience.
H. David Allick, DDS, PA
Family Dentist in Rockville, MD
White Flint Dental Associates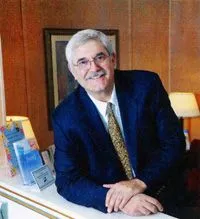 EDUCATION:
Case Western Reserve , 1979
BACKGROUND:
Originally from Cleveland, Ohio, Dr. Allick (aka "Dr. Dave") spent two years as a Naval officer before entering private practice. Dr. Dave came to Maryland in 1981 on the advice of his uncle who foresaw this area's dynamic growth.
DENTAL PROFILE:
While Dr. Dave's years of experience have led to excellence in diagnosis, his passion for technology has kept him at the leading edge for treatment, particularly with techniques to address problems associated with aging "oral" infrastructures. As an example, Dr. Allick is one of the first practitioners licensed in Maryland offering the Perio-Protect system. This FDA approved system provides an easy and comfortable way to combat gum disease. We invite you to stop by to meet Dr. Dave, receive a cosmetic consultation, and see the "cosmetic" improvements in our office as we strive to provide the most enduring, attractive and cost effective dentistry.
Ghassan Jacklis DMD
Family Dentist in Rockville, MD
White Flint Dental Associates
Ghassan Jacklis is a warm, respectful dentist serving his patients in Washington, DC. Dr. Jacklis is originally from Syria, and he is Arabic-bilingual. He is a member of the District of Columbia Dental Society .
Dr. Jacklis provides procedures such as implants , root canals, surgical extractions, general dentistry, and cosmetic dentistry . He regularly attends general dentistry training as well as implant training to remain current with medical nuances and developments. All of Dr. Jacklis's implants and prostheses are ceramic. He also provides services such as whitening, dentures, and bridges .
In his spare time, Dr. Jacklis enjoys playing tennis, racquetball, and solving puzzles. He also enjoys tinkering with small electronic repairs. Since relocating to the United States, Dr. Jacklis and his wife focus on spending quality time with their family, and they enjoy taking weekend trips to various areas to gain adventure and experience.
Schooling
Dental School - University of Pennsylvania , Doctor of Dental Medicine
Johns Hopkins University , Residency in General Practice
Johns Hopkins University , Fellowship in Hospital Dentistry and Oral Surgery